"It's going to take years for students to recover from the social, emotional, and academic impacts of COVID." 
We've all heard this sentiment expressed in various ways, but the dirty little not-so-secret is that most of the issues we're facing were exacerbated by the pandemic, not created by it. This reality is a bit of a double-edged sword: the longstanding problems we've been grappling with for decades have reached an unprecedented scale, but we also have expansive past research to guide us to the best solution. 
The student population included in retention and promotion studies closely approximates the struggling students we need to help today. The National Association of School Psychologists (NASP) reminds us that thinking of social promotion vs. grade retention as a binary debate is not good for students. Rather, we must work to identify and implement evidence-based practices to promote academic growth and success for that child as they progress along the grade continuum.
Much like data on retention, early data on the impacts of COVID-19 has shown that students from historically disadvantaged communities suffered greater setbacks. Achievement gaps grew significantly along racial and socioeconomic lines. It cannot be overstated: providing these students with the support they need immediately is not only the right thing to do, it's the only way we will truly recover from the impacts of the pandemic. 
So what does the research say? What works for students and what doesn't? Research by The Education Trust points us to two key strategies: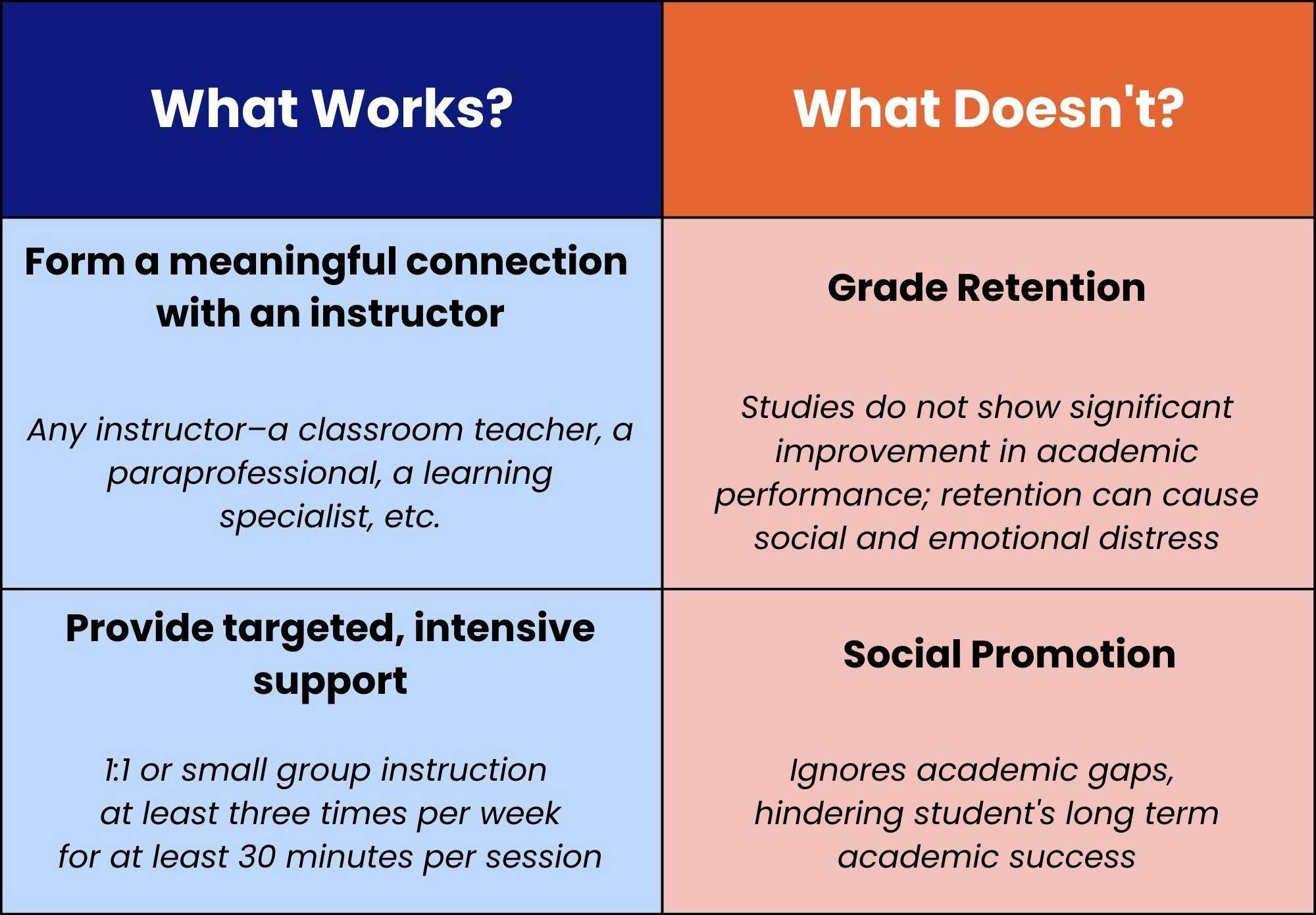 High-dosage tutoring makes it not only possible, but easy to accomplish this goal for every child a district serves. Students receive no less than three, targeted, 30-minute tutorials per week, delivered by the same person in a live setting with audio and video, fostering meaningful connections between students and their tutor. These relationships, coupled with intensive support, equitably drive student achievement and accelerate learning. 
Let's not get distracted by thinking these are new issues--let's use what we already know works to confront them head-on.